Sample Images
Original vs. Web | How We Pick 1 | How We Pick 2 | Focus
Beauty in Details | High Resolution Samples
Beauty is in the Details
A big advantage of digital SLRs, other than the ability to blur out the background and really emphasize one person in a photo, is the extremely high amount of detail that we can obtain in a picture. Even though a point and shoot camera might have an 8 megapixel sensor, the sensor is not equivalent to the one present in our SLR equipment. Each pixel in our cameras basically captures a greater piece of light from the image, and is therefore much smoother, and has more detail.
Seeing is believing...and we are pretty confident these samples will make you say "Wow".
Check out these samples of the detail we can see in our photos. We start with two images, at the size you see them on the web. Then, we zoom in to two spots to show you what are called "100% crops" of the image. Basically, that means we are zooming in so that one pixel in the photo is equivalent to one pixel on your monitor. This is the highest level of magnification before you begin to distort the image and enlarge the pixels to become "blocklike".
Sample 1: Were you wondering what the phone number on his water bottle was? (Nice advertisement for a Stanford sponsor).
Or how about the brand of wheels this racer is using?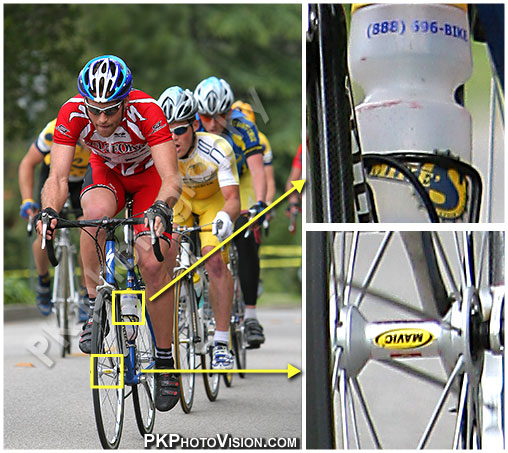 Sample 2: This rider has a great facial expression. Maybe you are wondering what his heart rate is...check out that heart rate monitor and computer close-up.
Or maybe you are wondering what brand water bottle that is...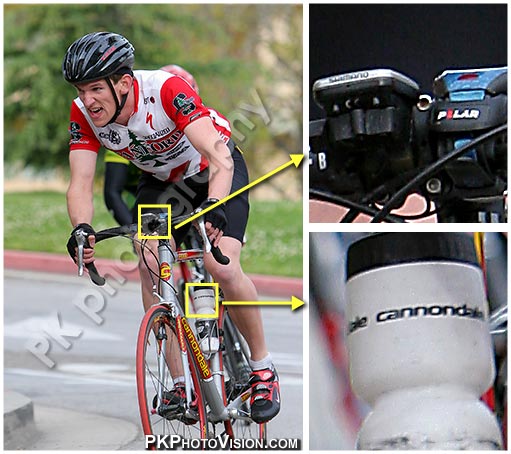 As you can see, the level of detail in these photos is amazing. You can see the smallest things at massive magnification. These zoom-in photos are only about 1% of the total image. So you can imagine for yourself how high in quality the overall image is.