Sample Images
Original vs. Web | How We Pick 1 | How We Pick 2 | Focus
Beauty in Details | High Resolution Samples
How We Pick Photos: Part 2
As we go through the 1000+ photos from an event, another key feature that we look for in addition to a person's eyes, is that their head is up and looking forward. We take tons of great shots that have people with their heads down (looking at their gears or just plain cranking away), or heads to the side (seeing who is behind them or how far ahead they are). We can't do much about this, other than skip over these shots when we pick photos for the web.
Here are a couple of shots that could have been good ones, had the rider been looking up the road (moral of the story is: if you want a good photo of yourself, keep your head up!).
Sample 1: "Who is that coming up on my left?"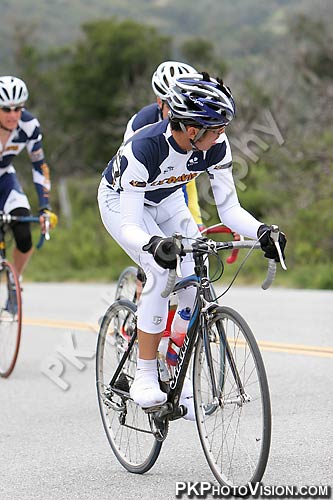 Sample 2: "Hey, I'm in the same gear you are, and the asphalt looks really nice"