Sample Images
Original vs. Web | How We Pick 1 | How We Pick 2 | Focus
Beauty in Details | High Resolution Samples
Focus Lock
More important than having a person be looking up, and have their eyes open, is that a photo is in focus. This might sound simple, but achieving crisp focus lock on cyclists moving at 20 mph+ is not the simplest thing in the world (as I am sure some of you are aware of, having tried to capture your friends/teammates in action with your digital camera).
Let's just say that we are about as picky as they come when it comes to focus. Even shots that are slightly out of focus are tossed aside. Only if we feel we can blow up an image to full poster size, and still have the main rider be crisp and sharp, do we pick a photo for the web. Using SLRs gives us the unique advantage of having one person be sharply in focus, and the rest of the action be out of focus. This provides for a very dramatic effect and makes the subject of the image really stand out from the rest of the photo. But this only works if they are perfectly (or close to perfectly) in focus.
Take a look at these side by side photos. Can you tell which one is not quite up to our standards?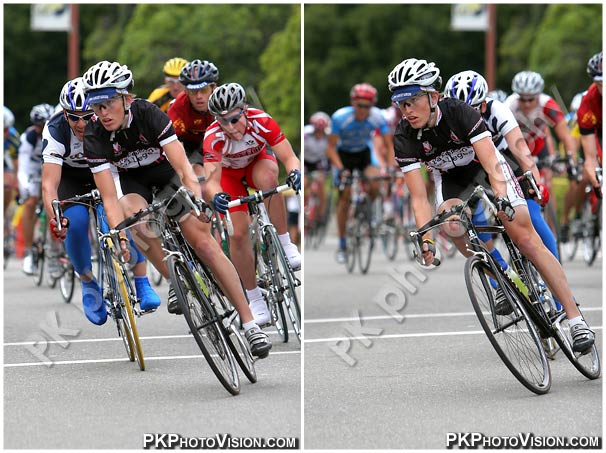 If you picked the left photo, you are right. This one is NOT up to our standards. If you didn't pick the first shot, or are saying to yourself "These are both really nice photos", take a look at a closeup cropping of the image below: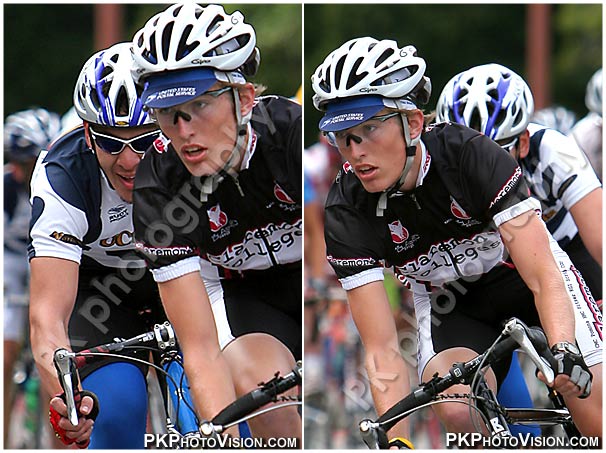 Notice how in the left image, the rider behind the front rider is actually slightly more in focus. In the picture to the right, the front rider is sharper, and the second rider is more blurred. It might take you a while to see the difference, but it is there. Because the first rider is the one that fills the majority of the shot, we want him to be in focus, not the second rider. Since we have taken enough photos, we can tell this difference instantly, and are able to scan through the photos we take to only choose those that are sharply in focus. This means that the shots you see online will be as sharp as the one on the right! Look at that detail too!!