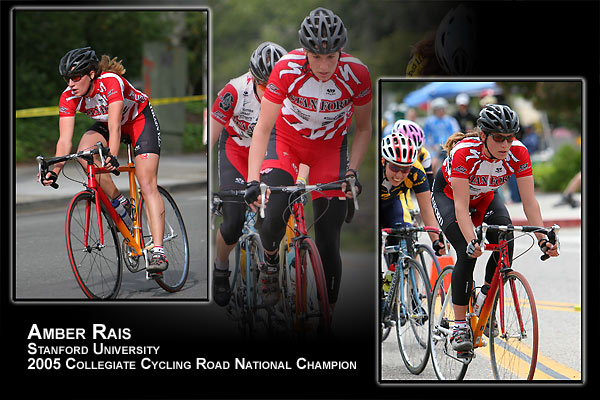 PK Photography is the unofficial home of Western Collegiate Cycling Conference (WCCC) racing photography. Collegiate cycling photos and racing action at their finest. We also shoot USCF and NORBA events, as well as dozens of other sports for newspaper and online publications! Thousands of pictures to choose from...all available to purchase online. Take a look at the galleries of photos or peruse our sample high resolution images on our purchase information pages. Enjoy all the photos!
Updates:
September 8, 2005: The San Francisco Grand Prix photos have been updated and re-organized. You can now view photos of many of the race favorites, such as George Hincapie and Levi Leipheimer, in their own folders! We have also broken the images down into race location, with the Taylor Street Hill Climb and the rest of the course. Be sure to check them all out!
September 4, 2005: Over 200 photos from the 2005 Barclays Global Investors San Francisco Grand Prix have been added. See photos of George Hincapie, Fred Rodriquez, Levi Leipheimer, Chris Horner, Charles Dionne, and event winner Fabian Wegmann. Discovery Channel, Webcor, Healthnet, Saunier Duval, Divitamon Lotto, Gerolsteiner, Kodak EasyShare-Sierra Nevada, Jelly Belly, and lots of other pro teams.
August 9, 2005: Photos from the Timpani Criterium have been added. Over 500 photos to choose from. Lots of Cat5 pictures for the men. Tons of great pictures of all the racing action. Check them all out!
August 6, 2005: Photos from the Timpani Criterium are coming soon. As usual, give us a few days to get through all the pictures and post them to our site. Come back soon for all the great racing action. In the mean time, check out the photos from all the other NCNCA races this summer that we have on our site.
July 26, 2005: Photos from the Albany Criterium have been added. Over 650 pictures to choose from. View the high resolution samples to see how good our photos really are!
July 24, 2005: We were at the Albany Criterium today, and took hundreds of photos. Expect to see a few hundred pictures posted from the great racing action in Albany around a short, fast course. Lots of great NCNCA racing action as usual. We will be posting them shortly. Check back soon!
June 28, 2005: The Burlingame Criterium pictures have been uploaded. Over 600 photos of some exciting racing action. The crowds were big, the weather was perfect, and the sprints were fast and furious. Check out all the great photos. All are available to purchase directly online. Thanks for checking out PK Photography, and let everyone know where to find the best of USCF NCNCA cycling action!
June 27,2005: Burlingame Criterium photos are coming soon. We expect to have about 600 pictures up by Tuesday, June 28...so check back soon. All races were shot, from Cat4/5 in the early morning hours to the Pro1/2 events in the afternoon.
June 23,2005: Look for us at the Burlingame Criterium on June 26. We will be taking podium shots for the crit organizers, and of course tons of action shots from all the races. Check out our sample photos at our table in the expo area of the race and see the kinds of prints that you can purchase for yourself.
June 1, 2005: Pictures from the 2005 ST Bikes San Jose Memorial Day Criterium have been posted! Over 700 photos from ALL races have been uploaded. From Cat5 to Juniors to Pro1-2, men and women. About 40-100 pictures from each race!! Spread the word about our site! There are probably photos of you or your friend here.
May 30, 2005: Photos from the ST Bikes San Jose Criterium on Memorial Day will be posted to our site soon (by Wednesday June 1). Check back for all the pictures. We expect to have over 500 photos from all the great crit racing action from San Jose. All categories were shot, from Cat5 to Juniors to Pro1/2. Tell your friends and family about our site!
May 23, 2005: Over 400 photos of the Ronde Van Brisbeen Circuit Race/Criterium have been added to our galleries. All races and categories are included. Be sure to take a look at all the pictures of this great race. All images are available for purchase online.
May 21, 2005: Our photos of the Ronde Van Brisbeen race will be added by Monday, May 23, possibly by Sunday evening. So check back soon to get all the photos. We should have over 300+ pictures, and have images from all of the races. All images are availale for purchase online.
May 19, 2005: Photos from the Ronde van Brisbeen USCF/NCNCA race will be added here shortly. We are pleased to start shooting USCF races, and hope that the pictures will capture the same racing essence that our collegiate cycling fans have come to enjoy. So check back soon for the Ronde criterium pictures!
May 15, 2005: Congratulations to all of the WCCC riders that proved the strength of the conference at the Collegiate Road National Championships held May 13-15 in Kansas. A special congratulations goes out to Stanford's Amber Rais, who captured the 2005 National Championship in the Criterium, and also the Individual Omnium! We salute her with a special "front page" photo spread at PK Photography. Also extremely impressive were the wins of Ken Hanson (Cal Poly San Luis Obispo) in the Men's Criterium National Championship and Brooke Miller (UC Santa Cruz) in the Women's Road Race. That's right, WCCC riders won 3 out of 4 National Championship races! At the Team Time Trial Event, the UC Berkeley Women captured the crown, adding yet one more victory to the WCCC. Simply amazing. PK Photography salutes all of these monumental efforts at the Road National Championships, and hopes you enjoy all of our photographs of these amazing racers during their regular collegiate season.
April 30,2005: We have added nearly 200 pictures from the UC Santa Cruz Circuit Race. The brutal rainy conditions made it a rough day for cyclists and photographers alike! Take a look at all the soggy pictures. This is the last race that we will be posting from the 2005 WCCC Season. It's been an amazing season packed with tons of great cycling action, and we are sad to see it end. We have had a great time shooting all the races and hope that you enjoy the pictures we have provided. Feel free to contact us with questions or comments about our photos. We love to hear from the racers themselves!
April 28, 2005: We have made a massive upgrade to the Purchase pages. We have added a lot of information about purchasing prints: from info about the prints themselves to lots of high resolution Sample images that show you close-up how sharp our photos are. Take a look at all the cool new info, and be confident in purchasing from PK Photography!! We have added all of this information to help you be informed about photography, and the difference between a good photo and the great ones that make it to our website!
April 24, 2005: Photos from the UCSC Circuit Race are coming soon! The weather was horrible (with lots of rain and cold breezes), but the racing action was great! We captured tons of great shots, so be sure to check back for the update.
April 13, 2005: Cal Poly SLO Crit pics have been added! Over 550 pictures to choose from. A great day of WCCC racing on a challenging course. Jam packed with hill climbing action, tough crashes with broken frames, and solid sprint finishes. Check all the photos out!April 11, 2005: Cal Poly San Luis Obispo Crit photos are coming soon! There should be another 300+ photos added to our galleries. Check back soon for the update!
April 2, 2005: UC Berkeley Criterium Photos have been added. Over 500 pictures from all racing categories, including the Alumni Category! Great racing action on an excellent, short crit course. Take a look. All photos available for purchase. March 25, 2005: PKPhotoVision.com launched!!!March 25, 2005: Stanford Road Race pics have been uploaded, completing the Stanford Race Weekend. Over 670 pictures to check out now!
March 25, 2005: We will be at the Berkeley crit be
March 17,2005: Do you want PK Photography at the Berkeley Crit? We have a conflict that weekend, and aren't sure which event to shoot. If feedback is strong, we will go to Berkeley. Drop us a quick email to say you want us there.
March 16,2005: Stanford Crit Pics are up! Print purchasing has been streamlined and is available on every page. Also note the new Team Purchase Program to get half price prints. We hope this program will help everyone to afford prints.
March 15, 2005: Stanford Crit and Road Race pics are coming. We have about 600 high quality photos that we will be uploading shortly, within a day or two. Please be patient as we sort through them and prepare them for viewing/purchasing.
March 8, 2005: Smile for the camera...Look for us at the Stanford Race Weekend. We will be at all the races!
February 23, 2005: UC Davis Crit pics have been added. Over 200 crit pics available! Over 500 total pics from the UC Davis Race weekend! Check them all out. There are probably some of you!
February 18, 2005: UC Davis Road Race pics have been added. Over 250 pictures now up. Crit pics still coming.
February 17, 2005: UC Davis Road Race weekend pictures are partially up. We started with the TTT. The RR and Crit will be coming shortly. The purchase page has been updated as well, online ordering has been expanded to more print choices. Also, our image pages have changed...browsing has been improved. See the new 2005 Galleries page for info.
October 24,2004: Stanford MTB XC Pictures have been added! Though the rain shortened the day, we still got over 150 great pictures! Check them out in the galleries.
October 15, 2004: You can now purchase photos online! Go to the purchase page and enter in your order, your photos will be shipped directly to you. Credit cards and Paypal are accepted.
October 2, 2004: Added over 60 pictures of the T-Mobile International Men's Professional Road Race held in San Francisco, CA on September 12, 2004. Check out pictures of riders from US Postal Service (George Hincapie, Ekimov, Azevedo, Rubiera, and more), local favorite Webcor (eventual winner Charles Dionne, last year's winner Chris Horner), Acqua/Sapone (Rodriguez), Navigators, HealthNet, Jelly Belly, Sierra Nevada, Phonak, and other American and European squads!
June 15, 2004: We have gotten over 500 hits in our first month! Thanks for visiting! Please feel free to contact us with comments on the site or our pictures. We are always looking to improve both our web site and our photography! Also, check out the Purchase section to buy prints of our images.May 5,2004: Added two high resolution image examples in the Purchase section under "Image Quality." Take a look at what our original images look like.
May 5,2004: The Stanford Crit has been added. All galleries are now viewable.
Over 330 total pictures of collegiate cycling at its finest!
Email us with any comments/suggestions you might have to improve the site.